EN

I am a photographer passionate about exploring and revealing different cultural stories that scratch the surface of deeper social issues.
Photography is a special way of experiencing and discovering reality; its mechanism and meaning; crossing boundaries; it is a way of "exploring the unknown".
Visual communication is currently flourishing and in the last few decades it has become one of the most important universal forms of exchange of thought, information and experiences.
In my work, I discover, explore, record and then share everything through my photographs.
PL
Fotografia to szczególny sposób doświadczania i eksplorowania rzeczywistości; odkrywania mechanizmów i sensów; przekraczania granic oraz "spotkania z nieznanym".
Sztuka ta daje możliwość uważnego uczestniczenia i nieustannego poznawania.
Komunikacja wizualna przeżywa współcześnie swój rozkwit i w przeciągu ostatnich dekad stała się jedną z najważniejszych form uniwersalnej wymiany myśli, informacji i doświadczeń.
W swojej pracy odkrywam, eksploruję, zapisuję, a następnie dzielę się tym poprzez medium jakim jest fotografia.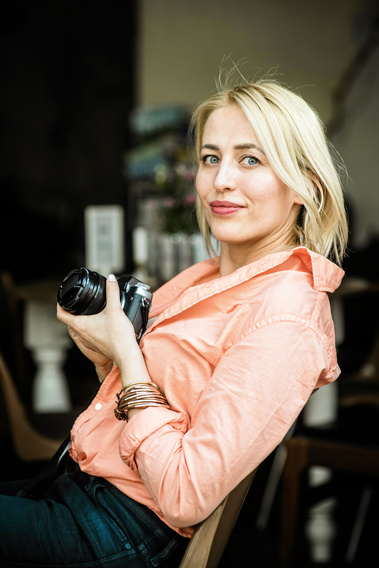 "To look at a thing is very different from seeing it."
Oscar Wilde
CLIENTS
TVN Discovery Polska / Burda International Poland / MKOO - IKSO (International Commission for the Protection of the Odra River against Pollution) / Getin Noble Bank (Wroclaw, Poland) / StreetFootballWorld Organization (Berlin, Germany) / Akson Studio (Warsaw, Poland) / Grey Agency (London, UK) / Best Film (Warsaw, Poland) / ATM Group (Wroclaw, Poland) / Brave Festival (Wroclaw, Poland) / KAN Festiwal (Wroclaw, Poland) / Goldoni Foundation (Pisa, Italy) / Cooperativa Teatralia (Livorno, Italy) / Simcha Festiwal (Wroclaw, Poland) / Arqu'tecturas' Valencia (Valencia, Spain) / Austrotech Ldt. ' (Balf-Sopron, Hungary) / Pro Loco di Santa Sofia (Santa Sofia, Italy)

PUBLICATIONS
National Geographic Poland / PRESS / Newsweek / The TIMES Poland / Gazeta Wyborcza / Wysokie Obcasy / Rzeczpospolita / Zwierciadło / Dziennik / Kino / Film / Gala / Publico / il Giornale /
national-geographic.pl / gazeta.pl / onet.pl / interia.pl / wp.pl / stopklatka.pl / dziennik.pl / filmweb.pl / filmpolski.pl
CATALOGUES & PROMOTIONAL ITEMS
Urząd Miejski Wrocławia
Polski Instytut Sztuki Filmowej
Politechnika Wrocławska PWr
" I love the people I photograph. I mean, they're my friends.
I've never met most of them or I don't know them at all,
yet through my images I live with them. " Bruce Gilden
BIO (PL)
Anna Gondek-Grodkiewicz
Fotografka, fotoreporterka, wykładowczyni akademicka. Laureatka Grand Press Photo 2017 (I nagroda w kategorii "Życie Codzienne – Fotoreportaż"). Współpracuje z magazynem National Geographic Polska.

Wykładowczyni fotografii i postprodukcji obrazu w Instytucie Projektowania oraz Katedrze Grafiki Uniwersytetu SWPS we Wrocławiu. Do 2020 roku również wykładowczyni w Instytucie Dziennikarstwa i Komunikacji Społecznej Uniwersytetu Wrocławskiego.
Jej prace publikowane były m.in. w: National Geographic Polska, Newsweeku, Polska The Times, Gazecie Wyborczej, Wysokich Obcasach, Gali, jak również w prestiżowej publikacji PRESS "15 lat Grand Press Photo".

Przez lata związana była z mediami i produkcją filmowo-telewizyjną. Autorka fotografii do polskich filmów ("Wenecja" czy "Afonia i Pszczoły" Jana Jakuba Kolskiego), seriali, fotoreportaży z wydarzeń kulturalnych oraz programów telewizyjnych.
W 2018/2019 uczestniczyła w Master Class Workshop prestiżowych agencji fotograficznych: VII Photo Agency oraz Magnum Photos.
Jej fotoreportaże były prezentowane na wystawach zbiorowych i indywidualnych - Boskie Dziecko o roli lalki w kulturze pokazano w piętnastu polskich miastach wraz z innymi pracami nagrodzonymi w konkursie Grand Press Photo 2017, a "Być silnym, zdrowym, szczęśliwym", opowiadający o ludziach uzdrawiających się przez kontakt z zimnem i naturą miał wystawę indywidualną w Poznaniu w Concordia Design na początku 2020 roku.
W 2020/2021 w ramach 7 Mediations Biennale – Horyzont Zdarzeń jej prace o tytule "Conscious-unconscious" zostaną pokazane w siedmiu miastach Polski. Ukazały się również w publikacji Przestrzeń środka, towarzyszącej wystawie.
Mieszkała i pracowała w Polsce, Australii oraz Hiszpanii.
Interesuje się psychologią, antropologią kulturową i muzyką.
BIO (EN)
Anna Gondek-Grodkiewicz
A photographer and an academic lecturer. Winner of Grand Press Photo 2017 Prize (1st Prize: category 'Everyday Life – Photojournalism'). She collaborates with the National Geographic Poland Magazine.
A lecturer in photography and post-production at the Institute of Graphics at the SWPS University and at the Institute of Journalism and Communication Science of the University of Wrocław.
Her photos have been published in major Polish magazines including: National Geographic Poland, Newsweek, The TIMES Poland, Gazeta Wyborcza, Wysokie Obcasy, Gala, as well as in the prestigious PRESS publication "15 years of Grand Press Photo".
She worked in film-television production and the media. The author of film stills for Polish films, serials as well as picture stories from cultural events.

In 2018/2019 participant of VII Agency Masterclass in Warsaw led by eight photographers of VII Photo Agency: Stefano de Luigi, Maggie Steber, Ed Kashi, Sara Terry, Maciek Nabrdalik, Ziyah Gafic, Ilvy Njiokiktjien, Tomas Van Houtryve.
Before also participant of Magnum Photos workshops (2016), as well as, Masterclass led by Tomasz Tomaszewski (2017).

She has lived in Poland, Australia and Spain.
Hobbies include psychology, cultural anthropology and music.
"Our pictures are our footprints. It's the best way to tell people we were here."
Joe McNally